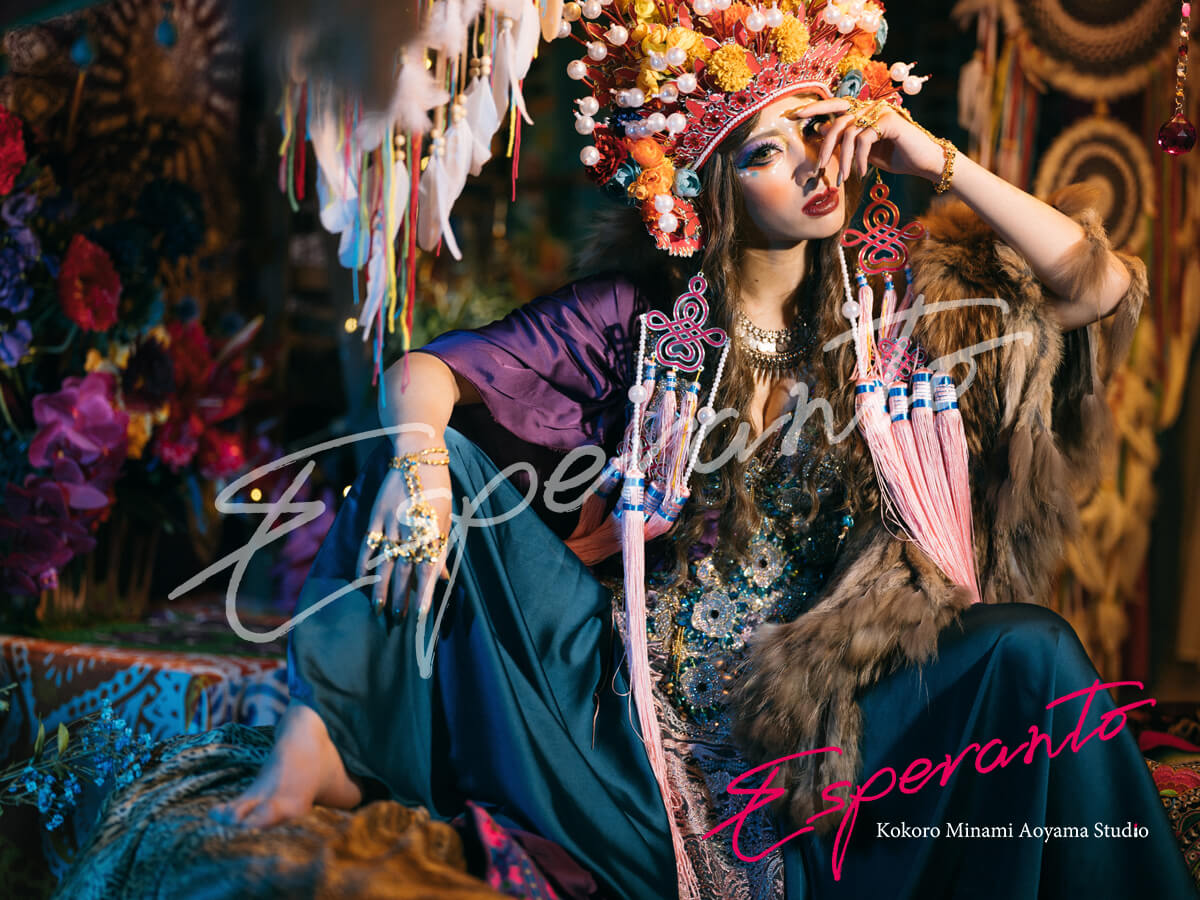 ~Bohemian Plan~
New plan will start ✡✡✡
The name is also [Bohemian]
With the introduction of this plan, we have all 6 plans planned at ESPERANTO Minami Aoyama store ✪ ✪ ✪
Oiran Plan, Simfer run Plan, Fox Wedding Plan, Japonism Plan, Kokohime Plan
And finally we can show off! ! !
[Bohemian-]
We have created a bewitching plan that creates an oriental atmosphere↑↑↑
At first let's see photograph ♞♞♞
The special secret of making dreams come true can be summarized in four C's. They are Curiosity, Confidence, Courage, and Constancy.
The secret to fulfilling your dreams is summarized in four "Cs". It is "Curiosity-Curiosity", "Confidence-Confidence", "Courage-Courage" and "Constancy-Continuity".
Walt Disney
– Curiosity –

– Confidence–
– Courage –
– Constancy –
Pictures full of Bohemian charm ✦✦✦
For some reason, the blog of ESPERANTO Minami Aoyama will be distracting.
When I was looking for a good word for this blog, I thought that this Walt Disney quote was perfect for Bohemian of the new plan reflecting the image of a strong woman ☛ ☛ ☛
cool! ! ! The photos are just one word…✦✦✦
I think it was a perfect plan for such a gypsy booth that has a vintage feel and also has the wildness of the natural world ☆★☆★☆
With the Bohemian Plan, you have become a strong woman full of confidence and courage.
This is Yuria, who also became the model of the Simfer run of ESPERANTO Minami Aoyama store ❖❖❖
Yes, She is a person with an outstanding style! ! !
Kirby's body line is exactly what girls want, ✧✧✧
I will explain Bohemian in detail with such photos of Yuria ♪ ♪ ♪
《Costume-》
It is the charm of this plan that you will wear belly dance costumes ✪ ✪ ✪
The upper and lower parts are separate, so you can wear it with or without adjusting to those who want to show their skin! ! !
It's also the charm of this outfit that the gorgeous fur gives a wild atmosphere♥♥♥
Isn't everyone worried about your heart…?
That's right.
The size of the bra part is quite large…
Therefore, I think it's always best to wear this outfit on your bra.
If possible, it would be nice to wear a Nubra or a bra with a large pad.
There may be some people with some resistance as there is a lot of anxiety in the bra and visible parts of the skin.
For those people, we are preparing an antique gown of lace fabric.
You can also hide the chest at the position where the fur is attached, so please feel free to contact us.
《Hair ornaments-》
In this plan, what's more of your concern is the head ornament ♔♔♔?
There is only one type of costume, but there are two types of hair ornaments, red and pink ☯ ☯ ☯
✿ Red ✿
✿ Pink ✿
Arranged a large Chinese Chinese hair ornament that seems to be used by the Chinese Acrobatic Troupe to suit the Bohemian plan ☛☛☛
We prepared Sauvage wigs for the plan, but you can use any wig you like.
You can hide your chest with long wigs, and if you have long hair, you can get a slightly western look.
This kind of arrangement with a shorter wig will increase the Chinese elements and create a more oriental atmosphere.
Please find your own original Bohemian♪♪♪
"Make-up-"
You can also enjoy your makeup with this Bohemian Plan original dot makeup⁂⁂⁂
Isn't it like an overseas festival makeup?
The mysterious and mysterious atmosphere is not perfect for this plan♡
There are many plans now in stores in Kyoto, so I tried to create a new Bohemian makeup style like never before ♦♥♦
Did everything convey the appeal of the new style of Bohemian Plan?
So far, I think you have repeatedly introduced the charm of the gypsy booth on the blog ♡www
This Bohemian-Bohemian-Plan is a plan made for such a gypsy booth! ! !
I wanted to show off to everyone as soon as I took an image in April, but it didn't come true…
I was disappointed for two months ⤵⤵⤵
And this time! ! !
Everyone will finally be able to experience it from July 1st~♥♥♥
Thank you very much for waiting~♬♬♬
Feel wild and tickle adventure
-Bohemian-♦♫♦・*:.. that can express such a strong woman.
We hope that many people will enjoy it.
Besides, there are many wonderful plans at ESPERANTO Minami Aoyama★
If you come to the store with a little curiosity
Our staff will transform you into a confident woman♥. .. *
Hopefully everyone's dreams come true at ESPERANTO Minami-Aoyama store filled with dreams♡♡♡