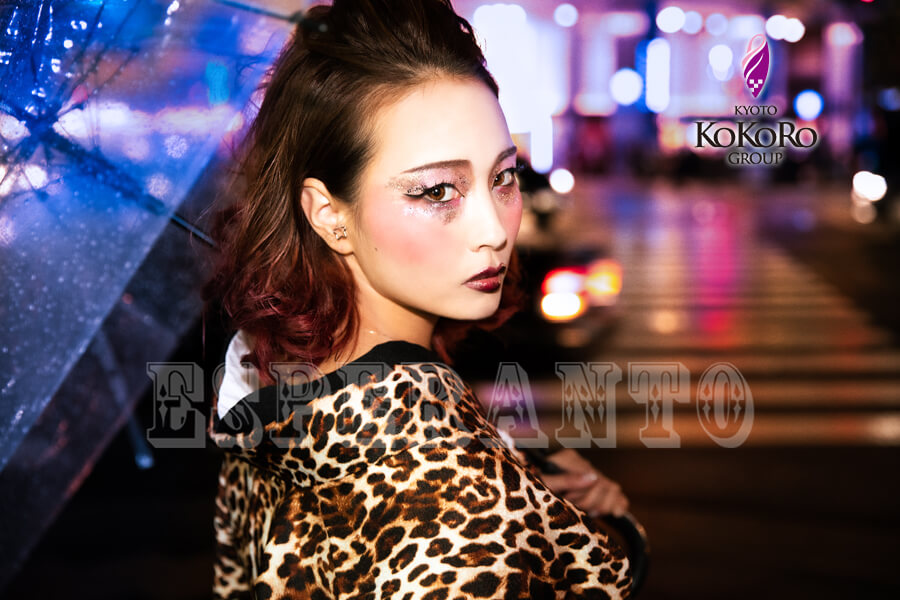 Dress me leopard
Hello!
I'm Hosono, a make-up staff.
The "Kyoto Kokoro Group" will finally open a new store in Tokyo.
We are having a lot of discussions about how to get our customers excited toward the opening of the store!
I can't wait for the opening because I'm too happy to prepare.
Today, I would like to introduce a new shooting course so that you can get to know the charm of "ESPERANTO Kokoro Minami Aoyama Studio", which has not opened yet, and the image of the new store.
At first please see this stylish photo!
The Kyoto Kokoro Group took a portrait shot using the familiar makeup staff, Ms. Ishii as a model.
The punchy leopard pattern kimono is finished in a stylish taste with a red belt.
This image was taken in Kyoto, not Tokyo!
It became a fashionable outdoor shooting against the background of neon lights at Kyoto Station.
Unfortunately there was a light rain, so there was a scene where I shot with an umbrella, but it seems that I managed to take it safely.
I think shooting in Tokyo will be attractive again.
Please look forward to it
There are many stylish kimonos that can be used for kimono portrait shooting besides leopard pattern,Please find your favorite one.
This time, I also took a cool shot on the background paper!
The leopard pattern looks cool!
This time I made it with glitter, so it shines depending on the lighting in the studio.
What is the difference between a makeover experience and a portrait? ??
I think there are people who think that.
The difference between "transformation experience" and "portrait" in our shop is that the transformation experience is a makeover, and it is a transformation make-up that puts false eyelashes on top of each other and changes the impression of the eyes with the eyeliner.
In addition, since you can use a wig, it is a plan that you can shoot with a more "unusual self".
For portrait photography, we do not use false eyelashes, etc., so we will prepare based on natural makeup, so I think that people who have resistance to darker makeup can enjoy it.
I don't use wigs, and I mainly arrange using my own hair, so I can shoot with the theme of "I am more fashionable than usual, and I am extremely cute".
The Kyoto store has developed a wide range of genres such as kimonos, western dresses, Chinese style, etc., focusing on transformation experience.
This time, at "ESPERANTO Kokoro Minami Aoyama Studio", we will develop a transformation experience plan centered on kimono and
You will be asked to wear a fashionable kimono as shown in this photo, and shooting like a fashion portrait will join the ranks.
In addition, as soon as the details of the new plan are decided, we will update it one after another, so please look forward to it.