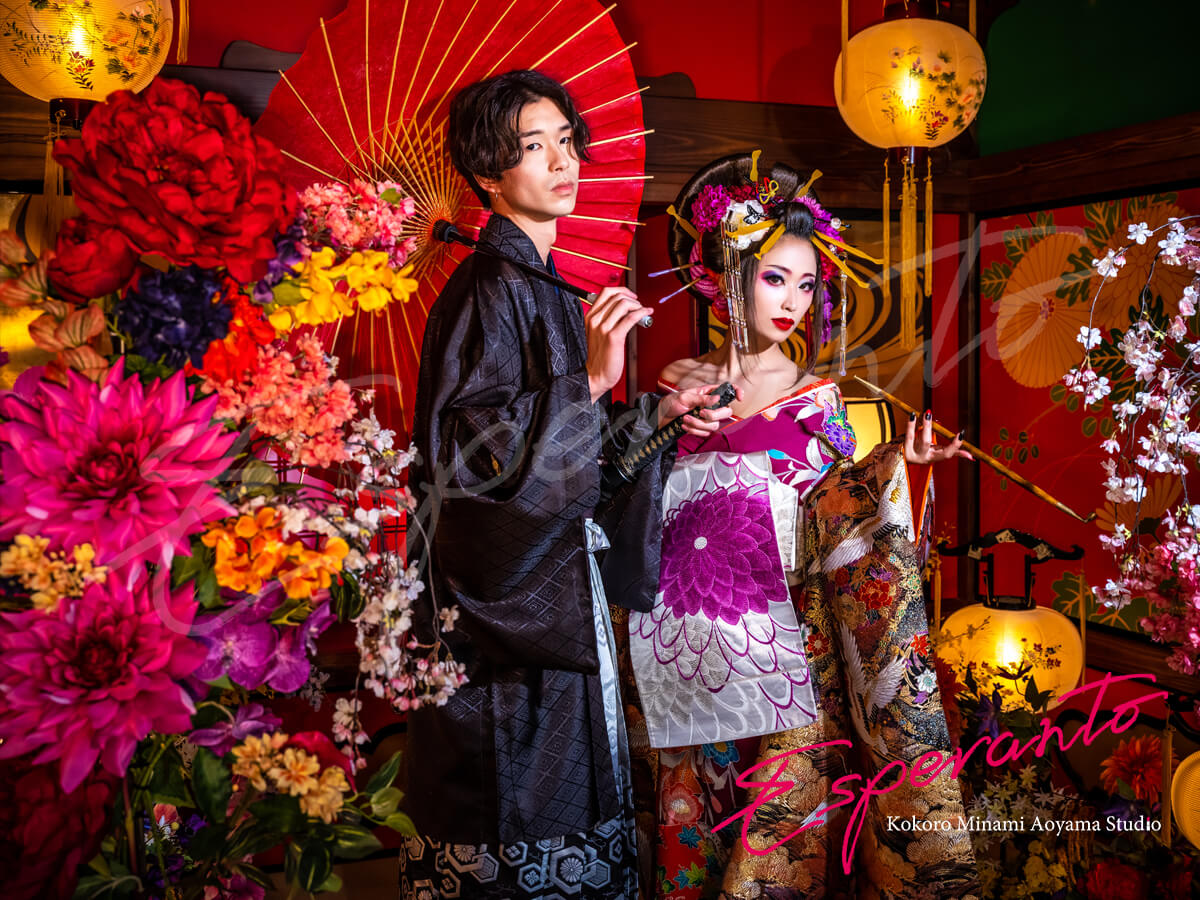 "Making important people and important moments into lifelong forms"
Hello!
Why don't you leave your memories at Esperanto Minami-Aoyama Studio! ?
Wow! !
Nice couple photo. ◦ (pq * ´ ꒳` *) ♥♥ *
Actually, not a real couple, but our make-up staff, Ito, and a friend of the staff helped with this shoot! !
I will show you more and more pictures from now on, but please keep in mind that as you look at them, you become more and more like a couple.
This photo uses a window sill and is a piece like a couple that is tight!
Isn't the shadow behind it also wonderful (: 3_ ヽ) _ ♡
Cute! ! This is …
I'm so excited! ! !
It's just like a scene from a movie, and you can even see stories! !
Somehow stylish atmosphere ,,,
It looks like a CD cover photo \ (・ ω ・) /
Applause for their model power \ (* ˊᗜˋ *) /
Of course you can also take photos of male pins!
It's cool ~~~ ♡
Men's hair sets are only simple hair sets ♪
You can choose men's kimono from hakama or kimono \ (* ˊᗜˋ *) /
Please enjoy the transformation in your favorite style!
Couple plan, please choose from two types of couple A course couple B course ♪
Women can choose their style!
For example, if you change the style to a fox wedding, you will be a fox wedding couple \ (* ˊᗜˋ *) /
In the case of the couple B course, two types of preparations are possible (',, • ω • ,, `) ♡
It is a course where you can fully enjoy the transformation because men can wear 2 clothes! ! ! ! ! !
And last but not least, it's a great deal! ! ! ! ! !
Please proceed to the line registration screen from the following URL,
If you add the Kokoro Group line, …
Just now! ! ! I get a 3000 yen discount coupon! ! ! ! !
And you can use it not only once but also many times during the period (until the end of May)! You can use it! !
This is the only way to register ˖ ° ٩ ('ω') و
From here to the registration screen!
https://line.me/R/ti/p/%40sqs1748s
Come and take photos of memories with your loved ones at this great time! How is your experience at Esperanto KOKORO Minami-Aoyama Studio (* '꒳` *) ੭⁾⁾
We look forward to your visit ♡♡