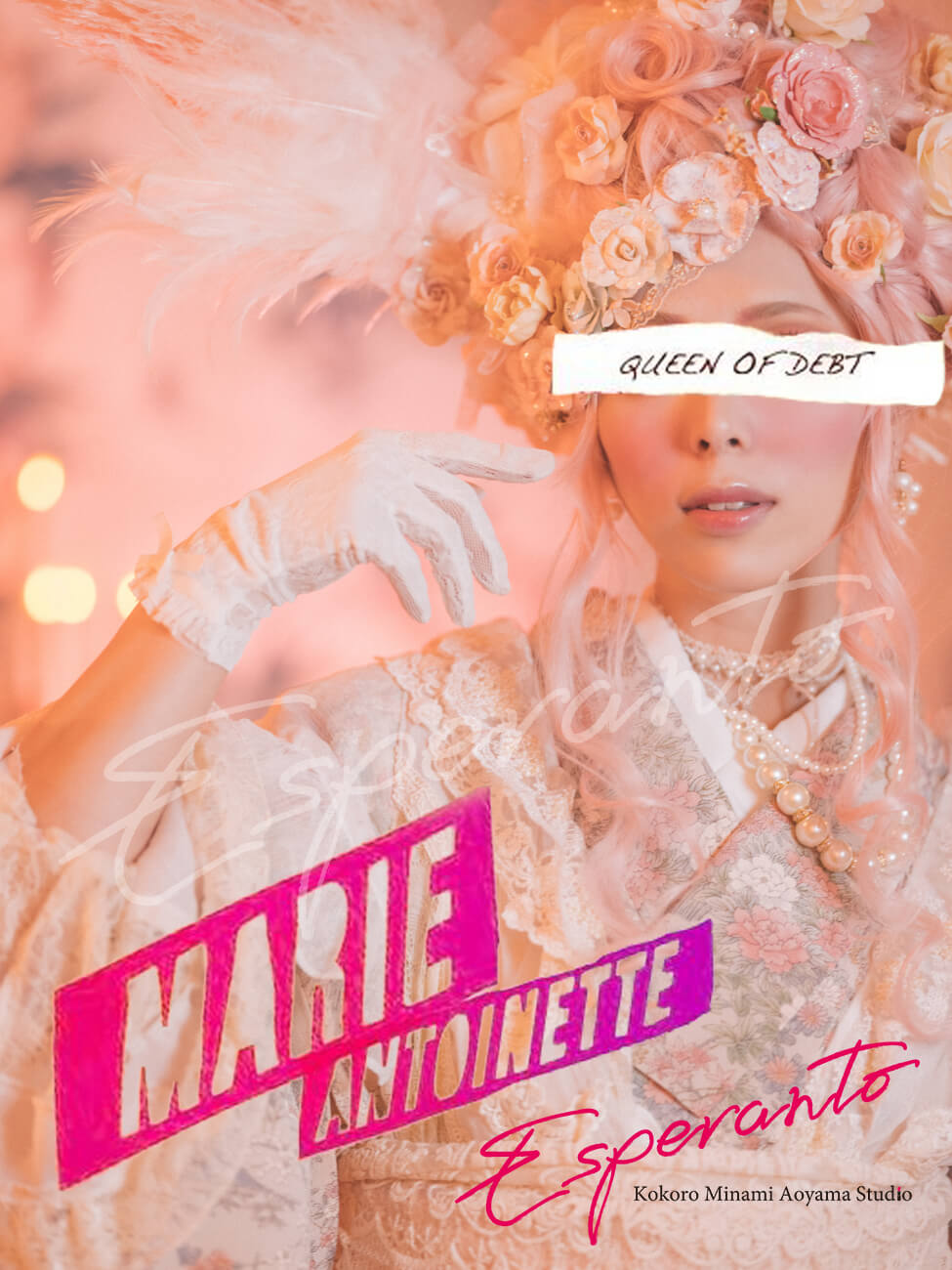 New Arrival: Marie Antoinette ♡♡♡
As you can see in the blog title
This is a campaign with the theme of Marie Antoinette!
ESPERANTO @ Kokohime's Campaign, which was not so popular at Kyoto!
fromKesoro's Esperanto KOKORO Minami-Aoyama Studio
This time the Grange Garden booth has transformed into a medieval room ♡
It becomes an antique room, a shabby room, and a grunge booth is amazing ♪♪♪
This time in a girl's longing rococo style room
Versailles Palace♞♞♞
Please be a princess in this campaign!
I'll introduce you the details of the campaign!
First, a synonym for Marie Antoinette
"Hair Style"
Speaking of Marie Antoinette, it features a hairstyle like a vertical soft ice cream.
It is a rule to open your forehead fully! ︎
However, most people have resistance to decorating hair ⇣⇣⇣
And it is a difficult hairstyle for a face length like me …
So, the first point of this time☝︎☝︎☝︎
This is a forehead race.
Since the wig is up, it is a race for hairline measures, but the angle of this race also
A person with a wide forehead can also adjust to the ideal contour.
There are two types of races ♡♡
Pink bonbon is cute. Dot race.
The above picture reference ↑
Pale tone flower motif is cute rose lace❀
Below photo reference ↓
You can choose your favorite set.
Large feathers, pink pampas grass decoration, plenty of pearls and roses
♡ Marie Antoinette campaign ♡
The hair is completed ♥ ♤ ♣ ♡ ♦ ♧ ♠ ︎ ♢
The wig is available in two colors.
It is pink or white as you can see in the picture.
Choose a wig and a lace, and the staff will decorate cutely ♡♡♡
continue
"Make up"
Eyes are not too busy. For a natural finish.
Layered brown eye shadow on orange base
Make a gentle impression like a movie actress like a painting.
Here is the second point! ! !
Only teak
Only teak! ! !
I 'll put it in as deeply as I am surprised!
Although it is mild in the photo,
Actually, I'm really surprised! !
I think you feel anxious until you wear a wig, but …
Please make it one of the pleasures ♪♪♪
At the end
"Styling"
After all, medieval France x Kimono is the biggest point of this time.
Customized lace gilet for clothes for kimono.
The ruffle on the chest and the ruffle peeping from beneath the obi make it look as if you are wearing a dress.
Plus lace sleeves on your sleeves.
There are also two types, so you can choose your favorite one.
By the way, one of the sleeves went to ESPERANTO Kyoto store last year
It was used in the Rouge et Vert campaign.
No way in Tokyo! ! !
And matching with a kimono! ! ! Who did you think?
You can choose your favorite kimono for the base.
You can choose your favorite obi,
Light pink band,
Or of a light blue belt with a western pattern
I recommend two bands for image shooting.
Special attention to shooting
Grunge garden where natural light gives a good taste.
Like a movie recollection scene
You can shoot in the atmosphere of the fantastic Versailles Palace.
This ♡ Marie-ant sum net campaign like CM shooting ♡
Is
The cuteness is now packed with lots of ♡♡♡
This photo is really like a scene from a movie ♡
If you use a smoke machine with an option, you can enjoy a different atmosphere again.
Now that we have told you all about Marie Antoinette's campaign, …
Did you notice?
The fact that you can enjoy two styles …
This plan
You can experience together! ! !
Until now the campaign could only be experienced by one person, but this time you can enjoy up to 2 people.
There is one caveat.
Hair decorations and costumes will be shared by two people, so less decoration will be required when you experience it alone.
Please understand that.
In addition, the group photo is basically only 2 cuts.
Therefore, if you want more 2 shots by 2 people, please add a group shooting option.
10 shots of 2 shots can be taken with the group shooting option.
And! ! !
How what! ! !
This Marie Antoinette is a regular Coco Hime plan
And you can also experience makeover B plan and makeover C plan.
Since it is a campaign content for a limited time, if it is within the period from February 21 to May 10
You can enjoy it as one of the regular plans ♡♡♡
Cute and cute Marie Antoinette
Please enjoy with Tokyo-limited plan!
Click below to make a reservation and go to the application form!