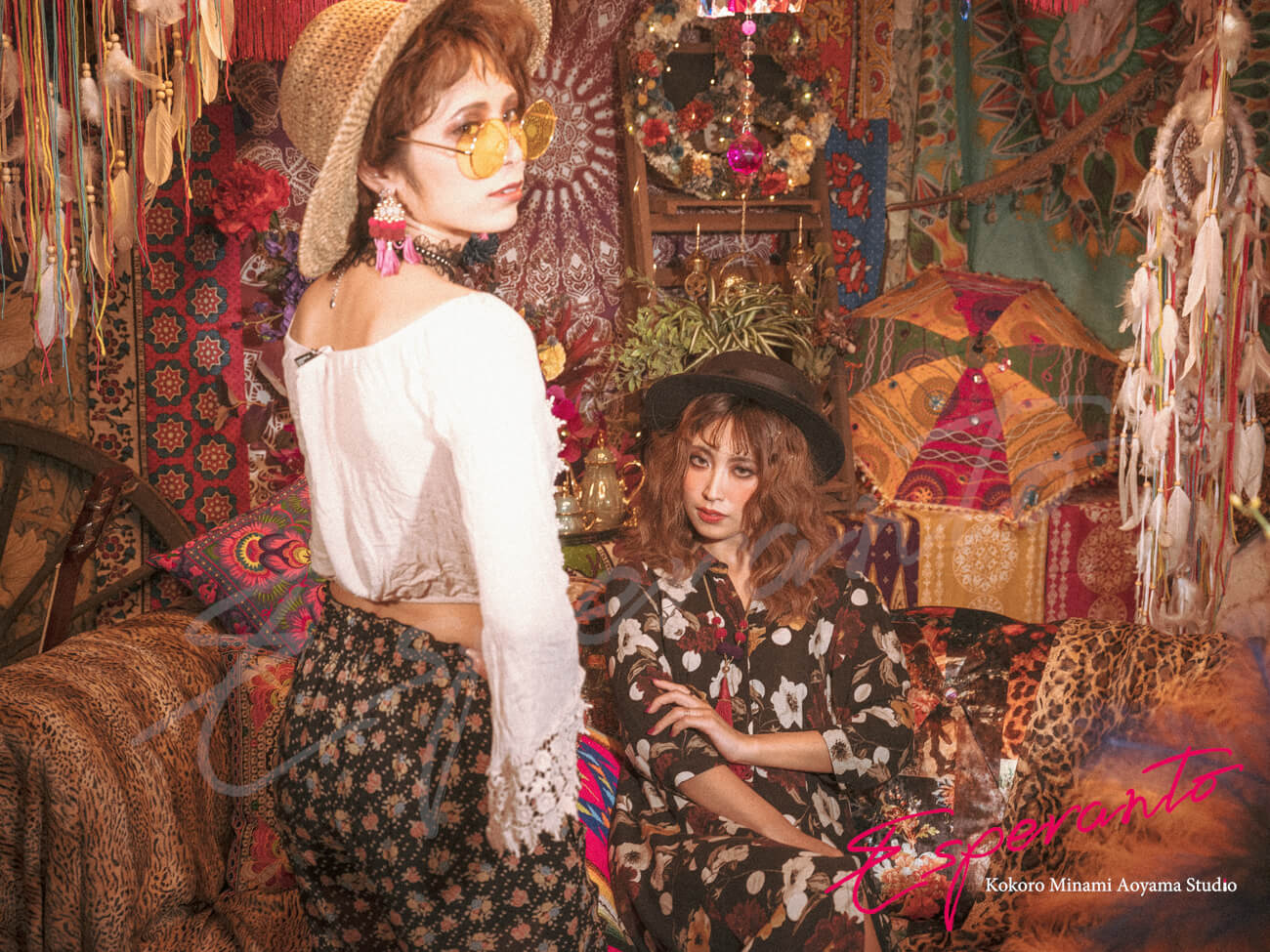 Tokyo fashion portrait style book
Gypsy caravan where you can hear folk songs
New booth
This time, I tried taking images using clothes instead of kimonos
There is a fashion portrait course at the Tokyo store.
Here you bring all the costumes and shoot with natural makeup using ground hair
It is a portrait shooting plan that is popular now! !
I often see them on Instagram and Twitter. #I want to connect with people who like portraits.
This time, I became a stylist Yokokawa and styled under the theme of hippie ♪♪♪
Disagreeable! ! It was more than imagined that clothes would fit in the booth.
I asked Matsuura to take care of the makeup, and the hair and makeup progressed at the same time
The makeup room was like the back of a real magazine shoot.
I have never done hippie style! ! I asked make-up staff Ito and photographer Kaneko to become models.
These two! ! ! It is like a real model that takes poses by themselves
Looking from the side of the booth, I felt like I was going to fix it between shutters, and it was like a real magazine shoot.
The photo finished with a little vintage processing is really like a page of a magazine ♡♡♡
Oh, this was Mr. Tobo from the fake magazine VOGEU …
Are you tired of watching it already?
That's right! !
Fashion portrait can enjoy shooting like a magazine model
It is a plan that is a bit different from the transformation experience ☾☾☾
Nakano ♦ ︎ ♦ ︎ ♦ ︎ photographed me
Actually
There were no Shohei or Tobo in this shoot.
The photographer who took over the intentions of the two took a perfect shot ~ ↗︎↗︎↗︎
Ms. Ito wore a long dress with ZARA floral pattern and dots.
The large pattern makes it cool with makeup and hairstyle.
Converse is absolutely suitable for the gypsy booth! ! Everyone was talking before the booth was made.
The rough feeling that seems to be able to go straight to the city as it is is fashionable again ♡♡♡
For Kaneko, I tried a little resort-style styling with sheer pants in trendy off-shoulder tops ☆ ☆ ☆
Short hair Kaneko ♡♡♡
This summer hat looks too good
It was Ms. Kaneko who photographed Ms. Ito in the first half.
It's a model and cameraman! ! !
The stomach that looks glaring …
Is n't your abdominal muscle broken? (W)
He seems to like to train, and it's exactly a girl at this time, Kaneko.
The dark-skinned two were exactly the perfect casting for the gypsy booth
When I did a collage like a magazine, it looked like one page of BLENDA magazine.
Ethnic tastes such as Bohemian style are likely to fit in the gypsy caravan booth.
However, I think that there are many people who do not have such clothes.
Of course you can also find summer resort dresses and denim items in the gypsy booth
The booth will make you gorgeous even with a little plastic dress that you sell to ZARA without being so enthusiastic.
I hope everyone can enjoy it with a novel styling that is not bound by the type.
Is this vintage feeling that goes against this age of AI and 5G irresistible? ?
After all, this blog did not stop my liking of the gypsy booth ❤︎❤︎❤︎
Unfortunately, our fashion portrait course does not have any costumes.
You will need to prepare your own costumes and footwear.
However, the gypsy kimono that seems to match the Coco Hime plan and kimono portrait using kimono is
There are various places.
Kimono with ethnic pattern or denim fabric
ESPERANTO We are preparing a kimono with a taste that was not in Kyoto ★★★
If you like the makeover photography course than the portrait plan, please enjoy the kimono plan! ! !
Fashionable and cute in the Tokyo store
Please come to see me only here ♡♡♡
The spread of the new coronavirus is going to be a problem all over the world, but now is the time to be patient.
The gypsy booth is just new. You can enjoy it anytime from now on, so please simulate various experience styles while you can not go out ♪ ♫ ♬
We look forward to seeing you all day ♡